15:53:46    15.08.2017
Hi soldiers, 
the new update 0.4 arrived on our game. We made lot of job but time was running out, so few objectives as 3rd/1st person view were moved to 0.4.5 update.
The Alpha Version will be out (with the 0.5 update) as free key if you made any tips. (link at the end) .
Well, go back to "Main Menu / Menu Resume-pause". 
You will be able to play singleplayer, multiplayer and more like contact us on Forum. At the moment "Settings Button" is not enabled but it will be resolved fast.
Note: Textures and size will be changed later.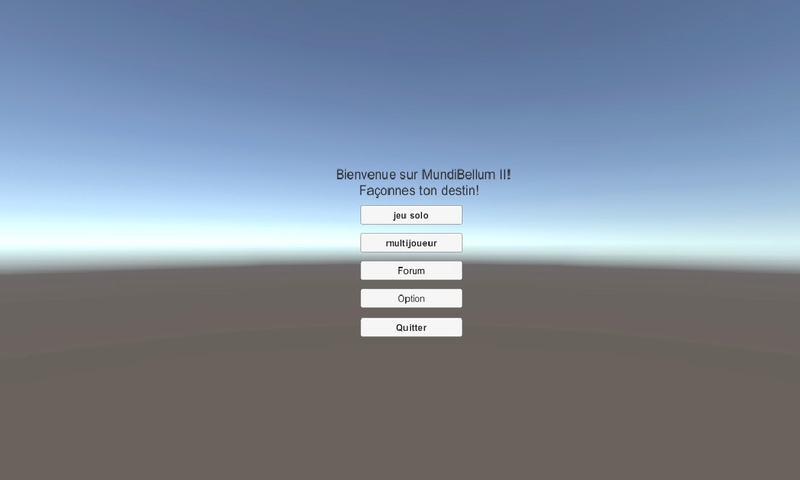 For Multiplayer, you can play alone or with your friends. The artificial intelligence can't be changed for this update but we'll work on it. As all wars games, you have to kill ennemies. Every shot reduce ennemy's like from 10 to 10 and your health level bar is 100 hp. It will appaers on the right of your of your screen and ennemy's life can be seen over their head. 
For Resume/ Pause, we added button "Resume/Pause. You can enable/disable it by "esc". 
For textures, we added colors to historicals characters to enjoy playing before removing colors to beautiful textures ( military uniforms). A Weapon has been added, C96 Mauser (German Pistol) and a new sky is available now. 
Next uptade will incorporate saving games, French and German translations and more...
If you want to react to this update, you can do il on our forum. 
Donations:
https://www.paypal.com/cgi-bin/webscr?cmd=_s-xclick&hosted_button_id=8J4HDVKPM8W4S
For new and updates: 
http://steamcommunity.com/groups/mundibellum2lejeu
Community polls: 
https://surveys.enalyzer.com/?pid=dutus5f6
Thanks for support and don't forget our slogan: Shape your history! 
Voici la Mise à jour 0.4 " Multijoueur et Menu pause" avant de débuter, nous tenons à vous précisez que le temps nous a manquer afin de remplir les objectifs prévus et ont, par conséquent, été décalés à la Mise à jour 0.4.5. (une vue 1e./3e personne).
La version Alpha sortira avec la Mise à Jour 0.5 mais sera disponible uniquement pour les personnes ayant fait un groupe ou appartenant au staff du jeu.
  (voir liens ci-dessus) 
Revenons à l'essentiel, Pour débuter commençons par le menu: 
Il y a plusieurs boutons. Le format que vous voyez actuellement n'est pas définitif. En effet, nous attendons des skins pour mettre un fond d'écran convenable et soigneux. Vous avez la possibilité de jouer en Solo, multijoueur, aller sur le Forum et quitter le jeu. (le bouton option n'est pas activé faute du manque de textures et de son.) 

Pour le Multijoueur, 
Vous avez la possibilité de jouer seul ou avec des amis, l'IA est pour le moment fixe. (Elle pourra se battre dans les futures mises à jour). Même si le réalisme manque cruellement, pour l'instant vos dégâts seront affichés de 10 en 10 et vous aurez une barre de vie correspondant à 100 points de vie. Ceci est noté à droite de l'écran et au dessus du joueur ennemie.

Pour le menu pause, 
Nous avons ajouté une touche pause/resume, que vous pouvez activer ou désactiver via la touche Echap. Ainsi vous pourrez quitter la partie en cours sans trop de difficultés. 
Pour les textures, nous avons mis des couleurs pour les personnages historiques pour une touche de gaiété attendant les textures des uniformes prévues à cet effet. Nous avons également ajouté un C96 Mauser Allemand au jeu. Pour finir nous avons rajouté un nouveau décor aérien. 
Nous pouvons certifier que dans la Mise à jour 0.4.5, l'ajout de sauvegarde de partie, une traduction Français Allemand sera disponible ainsi que plus de surprises.
                          Façonnes  Ton Destin....             
                                                                Ad.Dorsenne ainsi que toute l'équipe d'OLDIMENTION